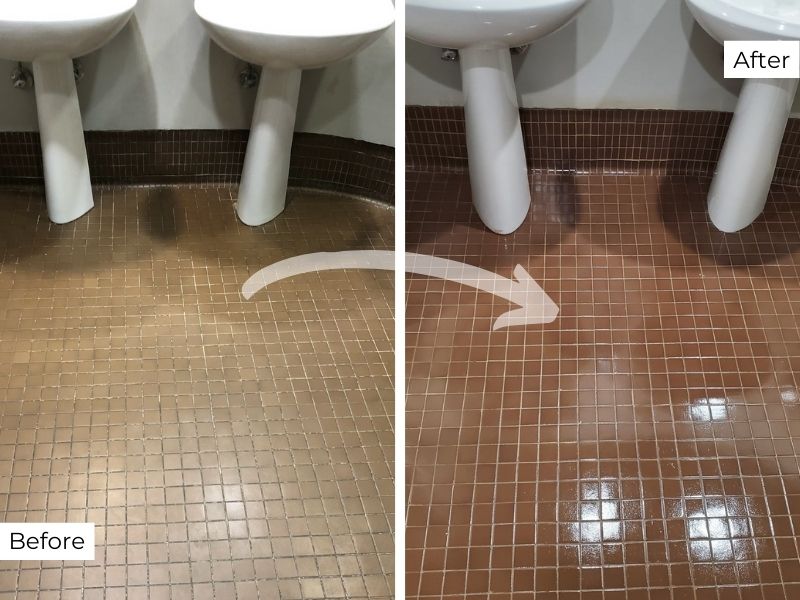 Hard surface Solutions with RexShield & Adsil Microguard​
Are you thinking about a commercial tile restoration project? While tile is a durable material with many positive attributes it has certain characteristics which require specialized maintenance and cleaning.
It is commonly thought that tile is not porous, and while this is mostly true it is still not an impenetrable substrate. This is particularly the case in public bathrooms and locker rooms where various acids and other contaminants can stain and degrade the surface of the tile. The grout that is placed between tiles is particularly subject to degradation given its cementitious make-up. 
As discussed in other sections of this website, cementitious materials are quite porous and have capillaries through which odor causing bacteria, water, mildew and other foreign substances can enter. Therefore, both tile and grout are subject to breakdown and many of the cleaning methods used on tile accelerate this life-shortening effect. In addition, tile color can fade over time and slip-resistance can also degrade with continued traffic.Prestige Grout is an authorized and trained applicator for RexShield & Microguard Adsil Hard Surface Coatings. This process is designed to close the pores in grout and tile so that there is no place for odor causing substances to become embedded. These coatings penetrate down into the grout and tile creating a dense matrix. It also creates a glass-like film on the outer surface that prevents mold, mildew and odor causing bacteria to adhere. This also makes it easy to clean because rather than using enzymes, baking soda, vinegar and other common grout cleaning chemicals a simple cleaner such as a pH neutral cleaner can be used. This allows you to use a kid-friendly and non-toxic cleaner that will effectively and easily remove any surface contamination.When properly applied and maintained the coatings are warrantied for a period of 5 years against yellowing & delamination.
These specialized coatings covalently bond with a variety of hard surfaces to produce a beautiful, strong, thin, clear coat that delivers remarkable adhesion, long-term protection, and wear-resistance. Inside or outside.
Formulated to dry quickly is particularly beneficial when dealing in the hospitality,  restaurant sectors or any business where downtime is an issue.