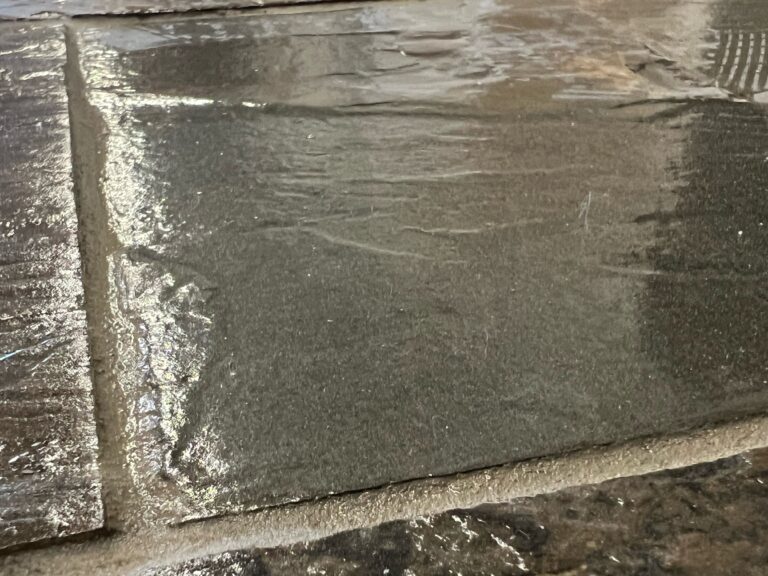 We are certified in the application of Microguard Adsil & Rex Pro Coatings for all hard surfaces.
Typically you will find slate in the entrance of your home or in a shower and Terracotta throughout the floors of your home. These floors are easy to maintain by applying multiple layers of a specialized finish to protect the very soft surface. Left unfinished they can lead to fine layers chipping away and eventually becoming very hard to repair.
After awhile the finish will become embedded with dirt and the once evenly finished surface will become very dull and have a lot of wear.
Our process starts by first protecting all of the surround surfaces, then we will strip the old finish completely off of the surface down to bare stone or clay. Once we get down to the stone or clay, we can then clean it thoroughly. At this time we can also clean and repair any grouted areas that are in need.
Once stripped and cleaned from all waxes we can then start to color the grout to an even uniform finish. This will ensure that all grout lines underneath the final finish are even in color.
Once the floor is stripped, cleaned, colored & repaired we can then apply the proper finish to protect your investment for years to come. Prestige Grout Marble & Granite is certified in the application of Microguard Adsil & Rex Pro Coatings for all hard surfaces.
These specialized coatings provide a long-lasting, stunningly beautiful, sustainable, and non-sacrificial finish that protects slate, terracotta, Saltillo, tile, grout, stone, terrazzo and concrete surfaces from corrosion, abrasive wear, mold, odor, and chemical attack.
The formulas are also LOW VOC! And because this coating solution covers and protects your brand new colored grout as well as your slate floor cleaning becomes very easy and scrubbing your grout becomes a thing of the past.